Recording : Singelkerk Amsterdam, September 1992
Recording , editing, mastering, music direction: Bert van der Wolf and Jared Sachs
Design : David Louf, Utrecht
Production : Channell Classics Records BV
---
Polytonal Ensemble: Rien de Reede – flute / Jan Spronk – oboe / Els Vreugdenhil – clarinet / Josef Malkin – violin / Esther van Stralen – viola / Eduard van Regteren Altena – cello / Marcel Worms – piano
Listen to a Suite for violin, clarinet and piano from the CD
De Volkskrant about the CD: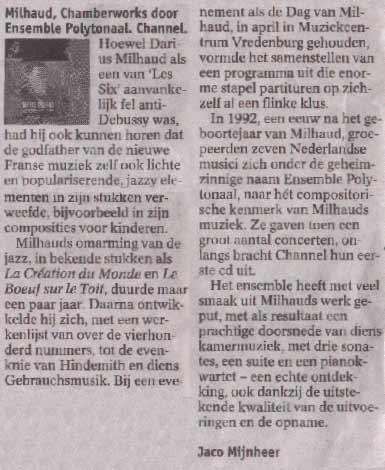 The Ensemble Polytonaal was founded by Marcel Worms in 1992, the 100th year of birth of Darius Milhaud. The name of the Ensemble refers to the polytonal character that dominates in a large number of works by Milhaud: multiple keys are used simultaneously. On this CD you can listen to a number of well-known and less well-known chamber music works from different creative periods by this French composer.
This CD was awarded the Diapason d'or by the French music magazine Diapason.
1. Suite for violin, clarinet and piano (1936)
2. Second Sonata for viola and piano (1944)
3. Sonata for flute, oboe, clarinet and piano (1918)
4. Second Sonata for violin and piano (1917)
5. Quartet for violin, viola, cello and piano op.417 (1966)